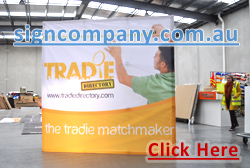 The EasyExpo is the best value portable Popup Display Sign System available for immediate use in Australia. Printed in Australia, the special tensioned fabric material and combo hook n loop fitting system make this the easiest TV interview, expo or exhibition backdrop around. Within a few days from recieving your artwork for printing the display is finished.
Includes: 100% Pre Assembled FAST Frame, printed 'special tension' long life UV printed fabric banner sign with printing, transporting case/bag.
"We manufacture the signs in bulk giving you fantastic quality and cheap price" is the corporate policy for portable sign walls and pop up displays in Australia, clients can now buy direct with the assurance of best quality everytime.
As used by professional photographers for back stages, by presentation and media personell for quick tv interview backdrops, used by sales people who want a simple to use, easy to put up sales presentation display and well liked by clients who after each trade show exhibit use as a permanent display in their office foyer's and waiting rooms.
Each easy to use pop up display comes with a handy carry case bag.
Each pop up display has special edges that the sign graphic fits onto so NO tools are required.
Free standing unit, the interlocking frames expand the sign into position and stays upright.
Sign letter kit for outdoor changeable sign is also available when you purchase the unit or separately.